Electrohype 2000
Electrohype 2000 pågick i Malmö 25 – 29 oktober 2000 och blev mycket varmt mottaget och mötte stort intresse ifrån många håll. Det blev ett berikande möte mellan konstnärer, teoretiker och publik.

Utställningen fick en stor publik, antalet besökare var mellan 150 – 250 personer pr dag. Konferensen hade ca 100 till 150 deltagare per dag. Enligt utdragen statistik från vår webbplats hade vi 5 400 besökare under oktober och november månad, varav 2 060 besökte webbutställningen.
Electrohype 2000 fick mycket god respons av media.



I anslutning till Electrohype 2000 anordnades även en workshop, Användning av interaktivitet i konstnärligt ändamål.
Relaterade länkar
Presslista
Electrohype 2000 rapport
Electrohype 2000 team
Electrohype 2000
Electrohype 2000, October 25th-29th, Received good response from many different groups and areas, and was a very successful meeting between artists, academics and the public.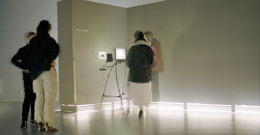 The exhibition Electrohype - SPACE at Kajplats 305 and the Rostrum Gallery had 150-250 visitors each day.
The Electrohype CONFERENCE was followed by 100-150 persons each day.
Electrohype 2000 received really good media response and coverage in newspapers, radio and TV.



A workshop, Interactivity applied for artistic purpose, was organised in connection with Electrohype 2000.
Related links
Presslist
Electrohype 2000 rapport
Electrohype 2000 team